Searching for the utility cart that I was suggesting as a solution to a resale shop owner who needed to move merchandise around in her home furnishings consignment shop, I ran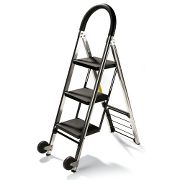 across something else with the potential to be, perhaps, your Favorite Thing in your shop.
Especially if you do as Auntie Kate suggests, and use the wall space above clothing racks or shelving for displays, you'll need a step stool. So why not get one that becomes a hand truck too? This one's from Hammacher Schlemmer.
It costs as much as TGtbT The Complete Manual and chances are you won't use it every day like you do the manual, but it will make your professional life easier just like the Manual!